| | | |
| --- | --- | --- |
| Title | File Size | Download Link |
| UMi_Rome X User Manual.pdf | 3.3Mb | |
| UMi_Rome User Manual.pdf | 3.1Mb | |
| UMi_Touch User Manual.pdf | 2.5Mb | |
| UMi super User Manual.jpg | 9Mb | |
| ROOTJOY 1.0.4.16516 Setup.rar | 9.6Mb | |
Among the many young Chinese brands recently on hearing more and more often appears UMI company. Its novelty, intrigue users claimed high performance and hope for a low price. And though UMI products are far from ideal, I think, to get acquainted with this brand is worth a closer look.
Beginning his career UMI company dates 2006. The first smartphone was introduced only after 6 years. What did the company up to that time unknown. UMI does not have a its production lines and research and development centers. All the orders they place on other plants brands such as TCL or THL. All the same company UMI is a few dozen employees, are engaged in sales, marketing, design and software. The brand name can cause many associations with other known Chinese Xiaomi, and in the logo of the brand can be found similarities.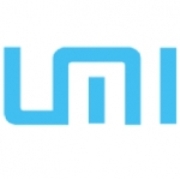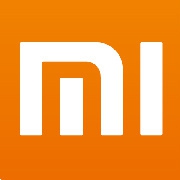 Very same company UMI explains its name as the closest sounding English «you and I». Alluding, perhaps, to the fact that the brand is very concerned about their users.
The first smartphone UMI X1 won the hearts of many buyers.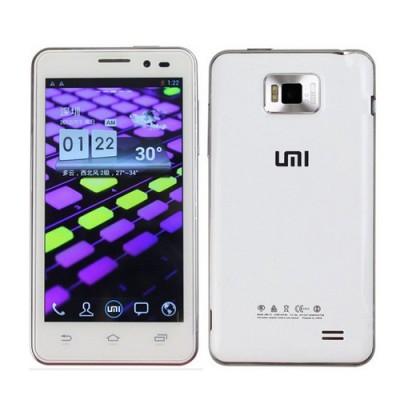 It really has been a successful model, one of the thinnest on the market of the time, even with the low cost. He became a direct competitor of the G3 smartphone is gaining popularity while companies JiaYu. Under the same characteristics X1 was more elegant that, however, had a negative impact on the battery capacity. In our market it was represented by a replica of the smartphone under the brand IconBIT NetTAB - model Mercury X. Most likely they were made on the same Chinese factory. Encouraged by the success of its first smartphone, the UMI has introduced a number of models such as the X1 Pro, X2, Cross, C1, and others. But the absence of its production was not without consequences. Delayed and disrupted delivery devices did not match the declared and actual characteristics, there were problems with after-sale service, and software upgrade. This is all very bad impact on the brand image, especially considering that the company has begun to enter the international level. Change the situation has been called a new flagship UMI with the eloquent title Zero, hinting at an initial starting point for change in the company.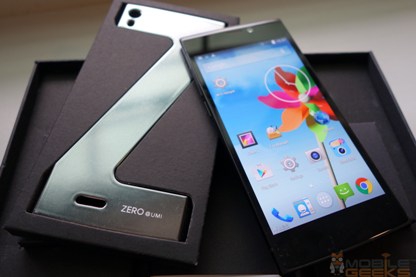 The smartphone was introduced in 2014 and turned out really good - a five-inch Super AMOLED screen with a FullHD resolution, 8-nuclear MT6592 Turbo (2 GHz), a beautiful design and the official price of $ 200. Rebirth failed, and soon the world saw a series of smartphones UMI: EMax, EMax Mini, Fair, Hammer, Hammer S, Iron, Iron Pro, Rome, Rome X, UMi Touch, UMi Touch 2, UMi Touch X. Preparing to start selling the much-touted flagship UMI Super, which, though a bit disappointing performance and price balance. Also not spared our brand and fashion virtual reality. UMI promise to release the headset VR Box 3, which will work with any smartphone.
Recently UMI start time to spend more time software. One of her pieces is the app for Rootjoy computer, with which the system is doing backups, reflash the device, and are experimenting with outside ROMami: MIUI, VIBE, LEWA.
Besides domestic market UMI tries to capture the other, particularly European. It makes it is developing a network of distributors and cooperation with international trading platform Amazon.
What UMI models of smartphones, should pay attention, we will look at next.
UMI Rome X - a budget phone with metal casing and a camera from Sony.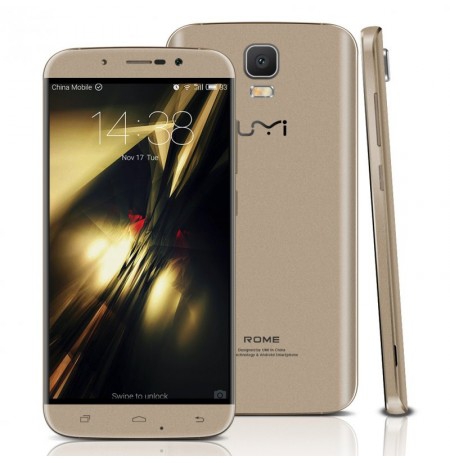 SoC - MediaTek MTK6580 4 cores at 1.3 GHz;
Display - 5.5 "LTPS 1280 x 720;
RAM - 1GB;
Built-in memory - 8GB plus support for memory cards;
Wireless Connectivity: WCDMA / GSM;
Camera - the main 8MP Sony IMX 179;
Battery - 2500 mAh;
Dimensions - 153.5x77x7.9mm, 177 .
UMi Touch - an interesting design and interesting price plus 3 GB of RAM.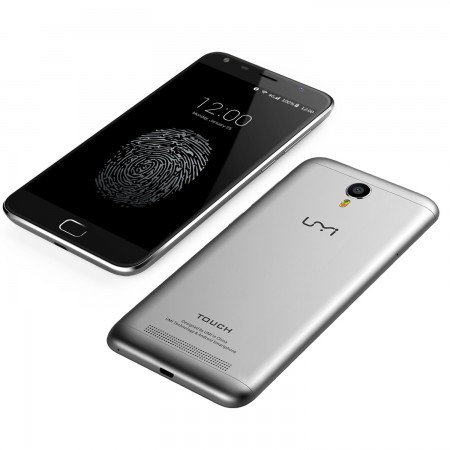 SoC - MediaTek MTK6753 8 cores at 1.3 GHz; 
Display - 5.5 "LTPS 1920x1080, Corning Gorilla Glass 3;
RAM - 3GB;
Built-in memory - 16GB plus support for memory cards;
Wireless communications: GSM 850/900/1800/1900 MHz || UMTS 850/900/2100 MHz || LTE 3, 7, 20;
Camera - SONY IMX328 main 13Mp;
Battery - 4000 mAh;
Dimensions - 154,5x76x8,5mm, 190.
UMi eMAX mini - well balanced smartphone at a reasonable price.
SoC - Snapdragon 615, 8 cores at 1.5 GHz;
Display - 5 "IPS 1920x1080 manufactured by Sharp;
RAM - 2GB;
Built-in memory - 16GB plus support for memory cards;
Wireless communications: GSM 850/900/1800/1900 MHz || UMTS 850/900/2100 MHz || LTE 3, 7, 20;
Camera - the main Sony IMX214 / Samsung ISOCELL 13Mp;
Battery - 3050 mAh;
Dimensions - 139.6 x 69.6 x 8.9mm, 130 g.
In general, UMI company is commended for striving to create technology-based smartphones for little money. It is also an opportunity to experiment with firmware adds to the attractiveness of the brand. In addition to custom operating system based on Android, plans UMI device on Windows. However, the company's devices are not without minor flaws typical of many Chinese brands to the second division. Nevertheless, it is evident that UMI moving in the right direction.