Cat S60 smartphone turned thick and large, unattractive to industrial design. In addition to the fact that the phone is equipped with a waterproof housing that can withstand drops on concrete from a height of 1.8 meters, the device is also equipped with the option that does not exist in any other phone - namely a camera thermal imaging. Download owners manuals for CAT Phones.
If you have questions about the availability of causing thermal camera in a rugged, waterproof phone - then, Cat S60 is not for you. However, if the function of a thermal camera, not "cutting" your ear, feel free to keep reading this review.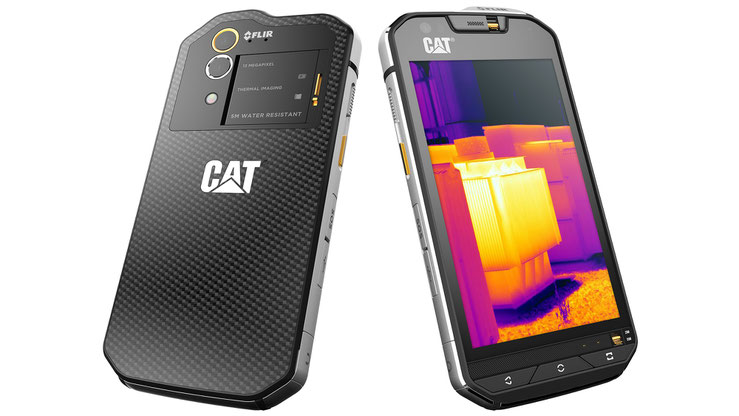 Thermal camera gives you superpowers. With it you will be able to visualize the temperature of objects, such as the same animal in the dark. Thermal camera located behind the phone, just above the main 13-megapixel camera and next to the slot for microSD and SIM cards. Note that the same camera under the name Flir One, sold as a separate accessory for iOS and Android devices for $ 250. And that's quite a budget price for the thermal camera.
Flir thermal camera application is pretty slow - run it usually takes 10 to 15 seconds. This application offers nine different filters (they differ in the color palette and let you select specific temperature more expressive shade), and also allows you to shoot video and take snapshots. In addition, there is a Flir Tools (free in Google Play) application that allows you to receive detailed information on each thermal footage shot (like the temperature of a single point of photos or entire temperature range shown in the picture).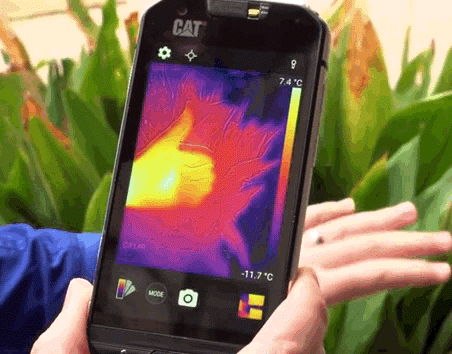 I like to use a thermal camera, using it I get an unusual picture and psychedelic video, but in practice I have not found a some useful applications. Yes, it was by the way, when a friend wanted to know the temperature of the microwave oven when it warmed cheese sandwich, or when I wanted to know how cool my coffee, so I burned them not, and that's it. If you are a firefighter, construction worker, rescuer, I think you will find a lot more use cases thermal Cat S60 camera.
Even taking into account a small 4.7-inch screen, Cat S60 still quite cumbersome. It is almost twice as thick as the iPhone 6S and quickly tiring wrist with prolonged use.

At the same time, if you hold the phone in your hand for a short time, the phone is not so cumbersome striking. Rounded corners deliver ease of use, while its buttons are large enough for comfortable pushing (in a toy phone). Wavy rear panel allows you to more securely hold the phone in your hand, if it is wet or if it is wearing a glove.
Cat S60 smartphone has IP68 certification and can withstand a drop onto concrete from a height of 1.8 meters, as well as an hour under water to a depth of 5 meters without any harm to the phone itself.

We did not dare to throw Cat S60 in water at a depth of 5 meters, and only limited to its intensive soaking. After a quick wipe a smartphone with a towel, he again worked for five plus. Although it's worth noting that sometimes, when the screen was still a little wet, he did not react to my touch and pressing, and this despite the fact that the display with Gorilla Glass 4 should be no problem to work in contact with moisture. Wiping dry screen solves this problem.
Pros . Cat S60 smartphone has a built-in camera of thermal image. The phone can withstand drops on concrete from a height of 1.8 meters, as well as immersion in water to a depth of 5 meters. It has a slot for microSD memory card expansion, and loud speakers on the front.
Cons. Cat S60 is much thicker and heavier than other smartphones. thermal image shooting function in spite of its interesting and fun, in most cases it is useless, except for some specific situations.
Conclusions. The quality and reliability of the Cat S60 assembly is amazing good, but the whole appeal of the smartphone will be revealed only if you find the use of thermal imaging camera.