| | | |
| --- | --- | --- |
| Title | File Size | Download Link |
| Fairphone FP1 User Guide.pdf | 2.1Mb | |
| Fairphone FP2 User Guide.pdf | 399.4kb | |
Not so long ago, two years ago, the Dutch company producing innovative modular Fairphone smartphones was founded. Currently it is preparing to launch a second-generation model - Fairphone 2.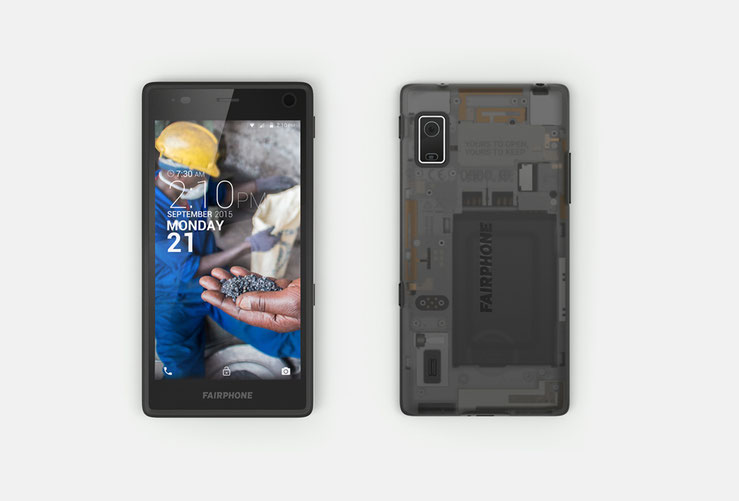 At the time the base of one of the founders of the ideas was to create a 100% ethical smartphone, that is such a device, whose production does not harm nature and people. Also on the website of the company say, "We want to integrate (used) only those materials that support the local economy rather than armed groups." Apparently, the company purchases certain raw materials and minerals for the production of its smartphones in the Democratic Republic of the Congo, which are constantly taking place various wars, revolutions, and it is linked to the statement.
The main intent was to create Fairphone joint creation of its design and development of devices by different people - enthusiasts at home.

Fairphone smartphone - is an open platform, which consists of several individual prefabricated modules, has an open source code of the software and a large set of software tools to create a new mobile operating system and various applications (programs) to it.
The modular concept phone designed and created to improve the user experience and ease of disassembly / assembly and repair of these devices.

Simple and reliable modules may be easily and quickly replaced by anyone, and you can completely change the overall configuration of the device, removing unnecessary specific user module or adding some else to meet your specific needs.
With this phone will not need to contact the service centers, it will be enough to order on the website of the manufacturer of the new part to replace the failed, and after receiving a replaceable part.

Also this smartphone design should significantly increase the overall service life of each unit.

Of course, this is the beginning of an entirely different form of relationship between man and his communicator.
All of these ideas have been a good response in the hearts of people, and in the beginning was able to produce and sell about 60 thousand Fairphone smartphone units of the first generation.

Inspired by the success, the founders of the company have improved their approaches to the production of mobile phones, have taken into account all the errors in the creation of the first Fairphone and restart the development of second-generation smartphone Fairphone. This unit is already hoping to produce and sell a total of about 200 000 units.
New Fairphone 2 consists of seven core modules (units):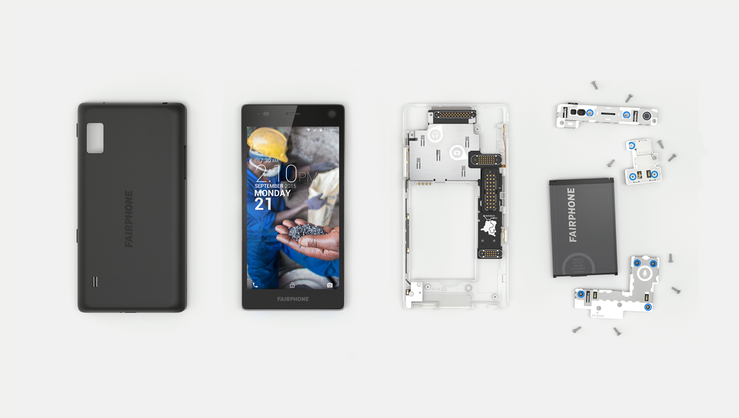 1. The outer housing (there are several variants for specific requirements).

2. Replacement battery.

3. The transceiver module, which is the core of the system. He, in turn, consists of a chipset, RAM and flash memory, modem, radio and antenna slots (holders) for SIM-card, and MicroSD card, motion sensor and power management.

4. The display module, which includes a main liquid crystal display (LCD), a touchscreen sensor and 0.7 mm lens Gorilla Glass 3.

5. Receiver Module, which includes a receiver sensor, headset jack, front-facing camera, noise-canceling microphone, light sensor and proximity and LED notification.

6. The module rear (main) camera, which includes the actual camera and flash.

7. The speaker module, which includes a speaker, vibration mechanism, the main microphone and USB connector.
All of these basic modules (blocks) are naturally themselves also are modular for easy maintenance.

For example, a broken display (the most common reason for repairing modern smartphones) can be replaced independently of one (1!) Minute (of course, if there is already a new one).

When a new device Fairphone all its component parts have been significantly improved.

So, to increase the durability of the device, Fairphone 2 received a unique rear lid with built-in anti-shock protection and a special coating, which is very difficult to scratch. Therefore, the new Fairphone 2 will not need additional cover to protect the body, which is very often spoils the appearance of the phone.

In general, the entire smart phone is not afraid of falling from a height of human growth on asphalt or concrete. No matter what part of it will hit - it will remain safe and sound and will continue to work as usual (as claimed by manufacturers).

protection device is also improved from dust and water, which are common causes of failures when using phones.

At the same time, he is not completely sealed, and immerse it in water entirely impossible.
Fairphone 2 decided to do better than the first, a configuration that will satisfy any user's needs in the next few years.

It became the basis for a reliable and high-quality platform is based on a 4-core processor Qualcomm Snapdragon 801 clocked at 2.5 GHz.

RAM 2 GB with this processor does not allow the smartphone to hang when working even with multiple applications simultaneously.

Built-in storage - 32GB, and even this amount may increase an additional microSD card.

The screen with a diagonal of 5 inches (1080 × 1920 pixels., Full HD, multitouch) will defend strong Gorilla Glass 3 Glass.

Main camera - 8 megapixel present.

Connectivity - LTE (4G), Wi-Fi, Bluetooth, GPS.

Supports 2 SIM cards (Dual SIM).

The battery capacity of 2420 mAh lithium-ion.

Operating system - Android 5.1 Lollipop.